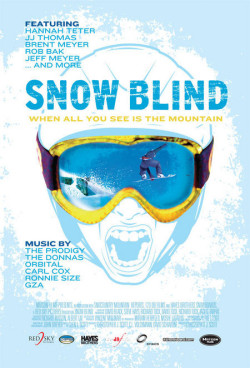 Snow Blind
---
Directed by:
Chris Scott
Synopsis
Produced by Chris Scott, David Schiavone
Featuring Hannah Teter, JJ Thomas, Brent Meyer, Rob Bak, Jeff Meyer
Red Sky Pictures Inc. and SnoCountry have partnered to produce a feature film documentary about the history, culture, and lifestyle of snowboarding. The film covers the birth of snowboarding, the evolution of it into an Olympic sport, and the passionate participants, thrill seekers, and competitors that make it what it is today – the most extreme of counter-culture. The film follows several young competitiors that are on the brink of success and the lengths they will go to win. It also documents the everyday enthusiasts, the top pros in the world, the most extreme riders, the marketers, the manufacturers, and most of all, the passion behind all of them. This film is about the spirit of the mountains and the ultimate culture behind the people that ride them.
Featuring Music by The Prodigy, The Donnas, Orbital, Carl Cox, Ronnie Size, GZA
100 Minutes. Available on DVD.
---