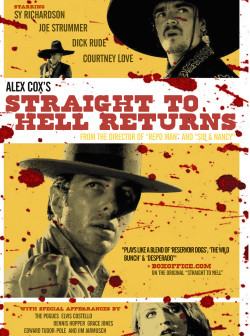 Straight to Hell Returns
---
Directed by:
Alex Cox
A Microcinema International Release
---
Synopsis
Four hapless bank robbers bury their loot and attempt to hide out in a deserted desert town.  But the town is not deserted.  Feasting, song, sexual tension, and inevitable deaths ensue.
Starring Joe Strummer, Sy Richardson, Courtney Love, Elvis Costello, Jim Jarmusch, The Pogues, Dick Rude, Grace Jones, and Dennis Hopper.
---