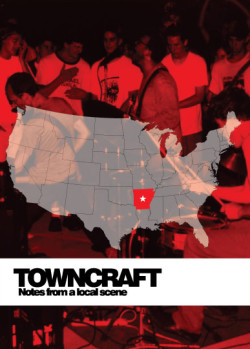 Towncraft
---
Directed by:
Richard Matson
Synopsis
Little Rock, Arkansas: 1986
A group of kids in a small, conservative Southern town discover punk rock music.  Over the next two decades, they would create their scene from the ground up: one of the youngest, most exciting and innovative hubs for music in the country.  Like most small town scenes, Little Rock's was never discovered.  But, the Little Rock scenesters built a community of artists with methods, goals and ideals that were all their own.
Towncraft – through film, words and music – is an anatomy of a scene: an intimate portrait of a small American town and how it is affected by its music scene. Towncraft examines how participating and producing in a local music scene can change your life.
View the most recent stories, images, and more.

20 Years of the Little Rock Scene
The TOWNCRAFT Box Set is a truly collaborative experience from the Little Rock Scene. While Matson Films edited the movie from New York City, Little Rock label Max Recordings assembled the 2-Disc Soundtrack, digging up masters for 40 bands from Little Rock past and present. Scene expatriates went to work on the gorgeous 60-page Book and the Box Set artwork was contributed by the same artist who designed the original 1992 Towncraft album. The end result is an amazing, comprehensive look at a unique community of artists in small-town America.
Box Set Contents
• Feature Towncraft Documentary DVD
• 2-CD, 40-Song Soundtrack – Disc 1: 1986-1996, Disc 2: 1997-2007
• 60-Page Book of pictures, stories, and cartoons from Little Rock Scene expatriates
---