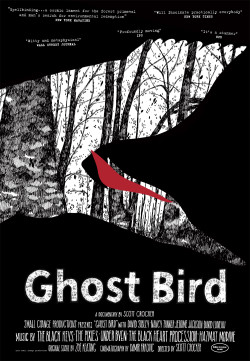 Ghost Bird
---
Directed by:
Scott Crocker
Synopsis
Set in a murky swamp peopled with birders, ornithologists, gawkers and politicians, Ghost Bird explores the limits of certainty, the obsessive power of hope, and how one phantom giant woodpecker changed a sleepy Southern town forever.
This thrilling eco-noir investigates the strange but true story of a small town in Arkansas overrun by a nation of birders all searching for the Holy Grail with wings – the Ivory-billed woodpecker.  Presumed extinct for over half a century, the giant bird was seen flying through nearby swamps by scientists who finally announced its rediscovery in 2005.
Despite years of searching, the bird's fate remains a mystery.  This witty, intelligent documentary brings the Ivory-bill's rediscovery into focus, revealing our uneasy relationship with nature and the increasing uncertainty of our place within it.
Soundtrack features  The White Stripes, The Pixies, The Black Keyes, and The Black Heart Procession
---
In Theaters
January 23, 2010 - Bijou Art Cinema - Eugene, OR
September 10, 2010 - Tivoli Cinemas - Kansas City, MO
September 17, 2010 - Gene Siskel Film Center - Chicago, IL
September 18, 2010 - MadCap Theaters - Tempe, AZ
September 24, 2010 - Metro Cinema - Edmonton, AB
September 26, 2010 - Alamo Draft House - Austin, TX
October 1, 2010 - The Screen - Santa Fe, NM
October 8, 2010 - The Hollywood - Portland, OR
October 12, 2010 - Olympia Film Society - Olympia, WA
October 13, 2010 - The Grand Cinema - Tacoma, WA
October 14, 2010 - Pickford Cinema - Bellingham, WA
October 15, 2010 -The Moxie - Springfield, MO
October 15, 2010 - Northwest Film Forum - Seattle, WA
October 17, 2010 - Ragtag Cinema - Columbia, MO
October 17, 2010 - Vashon Theater - Vashon, WA
October 18, 2010 - Bear Tooth Theatrepub & Grill - Anchorage, AK
October 20, 2010 - Nickelodeon Theater - Patriot Cinemas - Portland, ME
October 20, 2010 - The Loft - Tuscan, AZ
October 22, 2010 - Zeitgeist Multidisciplinary Arts Center - New Orleans, LA
October 24, 2010 - Movies on a Big Screen - Guild Cinema - Sacramento, CA
November 1, 2010 - Vancity Theater - Vancouver, BC
November 3, 2010 -The Flicks - Boise, ID
November 4, 2010 - Times Cinema - Milwaukee, WI
November 9, 2011- Utah Film Center - Salt Lake City, UT
November 20, 2010 - Dryden Theatre at George Eastman House - Rochester, NY
November 26, 2010 - Cleveland Cinematheque - Cleveland, OH
December 16, 2010 - The Roxie New College Film Theater - San Francisco, CA
December 19, 2010 - California Film Institute - San Rafael, CA
January 20, 2011 - Athens Cine - Athens, GA
March 15, 2011 - Film Streams - Omaha, NE
April 10, 2011 - Cable Car Cinema & Cafe - Providence, RI
June 9, 2011 - Bell Museum of Natural History - Minneapolis, MN
August 5, 2011 - Projection Booth - Toronto, ON
October 1, 2011 - Denman Cinemas - Vancouver, BC
April 16, 2012 - Lyric Theatre - Stuart, FL