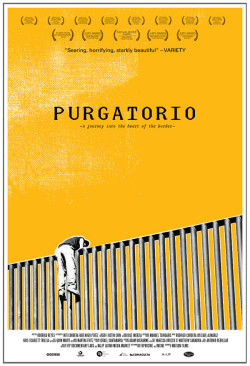 Purgatorio: A Journey into the Heart of the Border
---
Directed by:
Rodrigo Reyes
Synopsis
Rodrigo Reyes' provocative essay film re-imagines the Mexico/U.S. border as a mythical place comparable to Dante's purgatory. Leaving politics aside, he takes a fresh look at the brutal beauty of the border and the people caught in its spell. By capturing a stunning mosaic of compelling characters and broken landscapes on the border, Reyes reflects on the flaws of human nature and the powerful absurdities of the modern world.
Purgatorio has screened at nearly 40 festivals around the world including the Los Angeles Film Festival, Vancouver International, Warsaw Film Festival and the prestigious Documentary Fortnight at New York's Museum of Modern Art.
Purgatorio won the Jury Awards for Best Documentary at the New Orleans Film Festival as well as This Human World in Vienna. Rodrigo Reyes is a young, talented director who has been selected as part of the coveted 25 New Faces of Independent Film by Filmmaker Magazine and has been awarded by Tribeca Film Institute, Film Independent and NALIP.
---
In Theaters
June 3, 2014             Detroit Film Festival - Ann Arbor, MI
Sept 27, 2014            Milwaukee Film Festival - Milwaukee, WI
Sept 28, 2014            Ray Stark Theater - USC - Los Angeles, CA
Oct 3, 2014                Cinema Village - New York, NY
Oct 4, 2014                Film Bar - Phoenix, AZ
Oct 7, 2014                Cedar Lee - Cleveland Hts, OH
Oct 10, 2014              Laemmle NoHo - Los Angeles, CA
Oct 10, 2014              Cinema Detroit - Detroit, MI
Oct 13, 2014              Magic Lantern Theatre - Spokane, WA
Oct 17, 2014              Capitol Theater - Burlington, IA
Oct 19, 2014              Cinematique of Daytona - Daytona Beach, FL
Oct 26, 2014              The Roxie - San Francisco, CA
Oct 28, 2014              New Parkway - Oakland, CA
Oct 29, 2014              Second Act - San Francisco, CA
Nov 1, 2014                Media Arts Center - San Diego, CA
Dec 10, 2014              Austin Film Society - Austin, TX
Jan 15, 2015              Nightingale - Chicago, IL